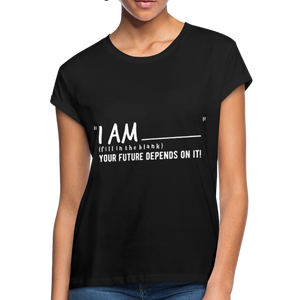 "I AM ________" (fill in the blank) Your future depends on it".
Speak to your present and your future with this shirt. This powerful statement is the based for many inspiration movements and program. Make this shirt yours today!

The chill axed boyfriend style T-shirt for a casual time. Super relaxed fit for the ultimate convenience on hot days. Can be tied into a knot and lets colder days feel that bit hotter. 
Straight Oversize Cut for maximum comfort 
Sleeves with rolled-up cuffs- to show your style 
Round neck with ribbed band
Durable quality: single jersey
Material: 100% cotton
Fabric weight: 5.11 oz (mid-weight)
Imported, processed and printed in the U.S.A
normal fit
| | A | B | C |
| --- | --- | --- | --- |
| S | 24.49 in | 18.98 in | 2.99 in |
| M | 25.00 in | 20.47 in | 3.50 in |
| L | 26.50 in | 20.47 in | 4.02 in |
| XL | 26.97 in | 21.50 in | 4.25 in |
| 2XL | 26.97 in | 22.48 in | 4.72 in |